Missionary updates
Greetings from Kerio, Kenya!
From Agape Ministry partners in Kenya:
Greetings from Kenya, Africa! We've moved here to live as missionaries in the village of Kerio. We've been here a month and have already learned a lot about this people group. We're getting to know the locals here, ministering to them as we can. We're getting used to the harsh conditions, learning to use the local water and prepare meals in the rough. Now for a more detailed account…
 Our ministry:
We're not doing much 'real ministry' yet. Our mission requires that we spend the first three months just learning to live among the locals. We're supposed to get acquainted with the people, their traditions and way of life, try to learn what their needs are and investigate the best methods of ministering to them.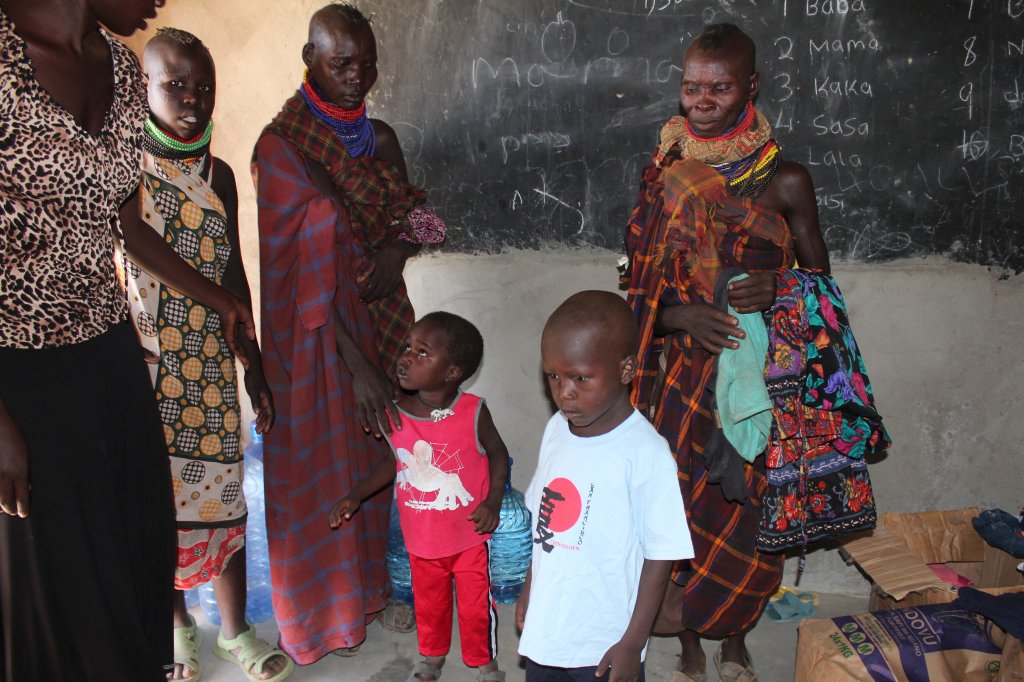 One the main things we are doing at the moment is helping out at the village school. An African missionary, Bishop Benson, founded this school. Pastor Jeremiah, and his wife, Pamela, financially maintain the school and conduct the lessons there. Pastor Jeremiah is the minister in the village church, and we are currently living with them on the church property.
 We've also distributed food with the "Children of Kerio" outreach project, which was founded by a ministry team from the city of Kitale. This month, we distributed food to 60 families, with each family receiving 55lbs of corn, 55lbs of beans, 22lbs of sugar, 9lbs of flour, and 2.5 gallons of cooking oil. We also distributed clothes and baby food.         
 Another outreach project we've started is distributing clothes in surrounding villages. We want to do this as a way to reach out to these people and get to know them, hopefully opening doors for further ministry and preaching of the Gospel. This is not an easy task – we travel by motorcycle through the desert sand, which is simply teeming with truly vicious sand spurs, and we have flat tires constantly.  Over the past month, we've had something like 40 flat tires. Even making good time, it's a 2-hour drive to get to several of the villages. There were times when we ended up spending the night in some isolated village because of problems with our motorcycle tires. There have also been times when we had to go by foot, walking from 2-6 hours to reach our destination.
Something else we've been doing is helping Pastor Jeremiah and Pamela with their ministry. They are ministering to 12 small churches, where they hold services twice a week. We help them with transportation as well as distributing clothes, shoes, and sometimes food to the people in the churches they visit. We're glad to have this opportunity to get to know the local believers and have been enjoying the times of fellowship we have.
Our daily life here:
For now, we're living in a tent next to the Pastor's house. We get up quite early in the morning, since by midday it's impossible to do anything because of the heat and swarms of flies. We make tea, and when we have bread, we have sandwiches for breakfast. During the daytime, we basically don't eat anything, because it's just not realistic to cook in the heat. We snack on nuts until the heat passes. Suppertime has become our only real meal of the day, which we cook over a charcoal fire. We usually have rice or potatoes, and sometimes we make soup.
For furniture we have a table and a little chair. We started out buying drinking water, but have now switched to the water for the school, which is brought in from Lodwar. Sometime we drink the local water. We use the school's water for cooking; for bathing and washing dishes we bring water up from the river.
We buy most of our food in Lodwar (43 miles away), making shopping trips every 1 ½ to 2 weeks.  Our food situation is a little better now that our friends Julia and Veronica brought us a good supply of rice and sugar from Kitale.
We've also been given permission to use a piece of the church property as our own land. We've started clearing it of weeds and briars.   We're planning, Lord willing, to build a little local-style house there, 13x22ft. It would go up in about a month and cost around $800. We're praying that the Lord would supply the finances we need for this. It will be nice to have an actual house instead of a tent. There are sands storms here quite frequently, and after they've passed through, sand is literally everywhere.
Our plans:
Over the next month, we're planning to add a few comforts to our life by buying another chair and a sturdy motorcycle tire, made for the desert. Overall, we like living here and as of now, are planning on staying here for long-term ministry. We want to live here in Kerio until August, when we'll be traveling to Kitale so Victoria can give birth in a hospital there. Hopefully, a month after the baby is born, we'll be able to come back and continue ministry here in Kerio.
 A few prayer requests:
-Please pray for spiritual strength and endurance. It seems like evil spirits are very strong here. Even friends visiting us have noticed this, to the point of experiencing physical problems, and they ended up leaving earlier than they'd planned.
-Pray for good morale on our part. Sometimes the attitudes and actions of the local adults and children make it quite hard to be positive.
-Pray for our finances. Right now, our support is low, and we want to get our little house built before the baby comes. We also need to buy a refrigerator and a four-wheeler.
 Thank you for praying for us - thank you for your support!
May God richly bless you.
Volodya and Victoria Yaroshenko –
Agape Ministry Partners in Kerio, Kenya